How the Aster Foundation scaled their social value & volunteering programme using Goodsted
With Goodsted, Aster has reduced their admin work-load enabling them to engage not only colleagues, but customers, suppliers, donors and nonprofit partners in one place.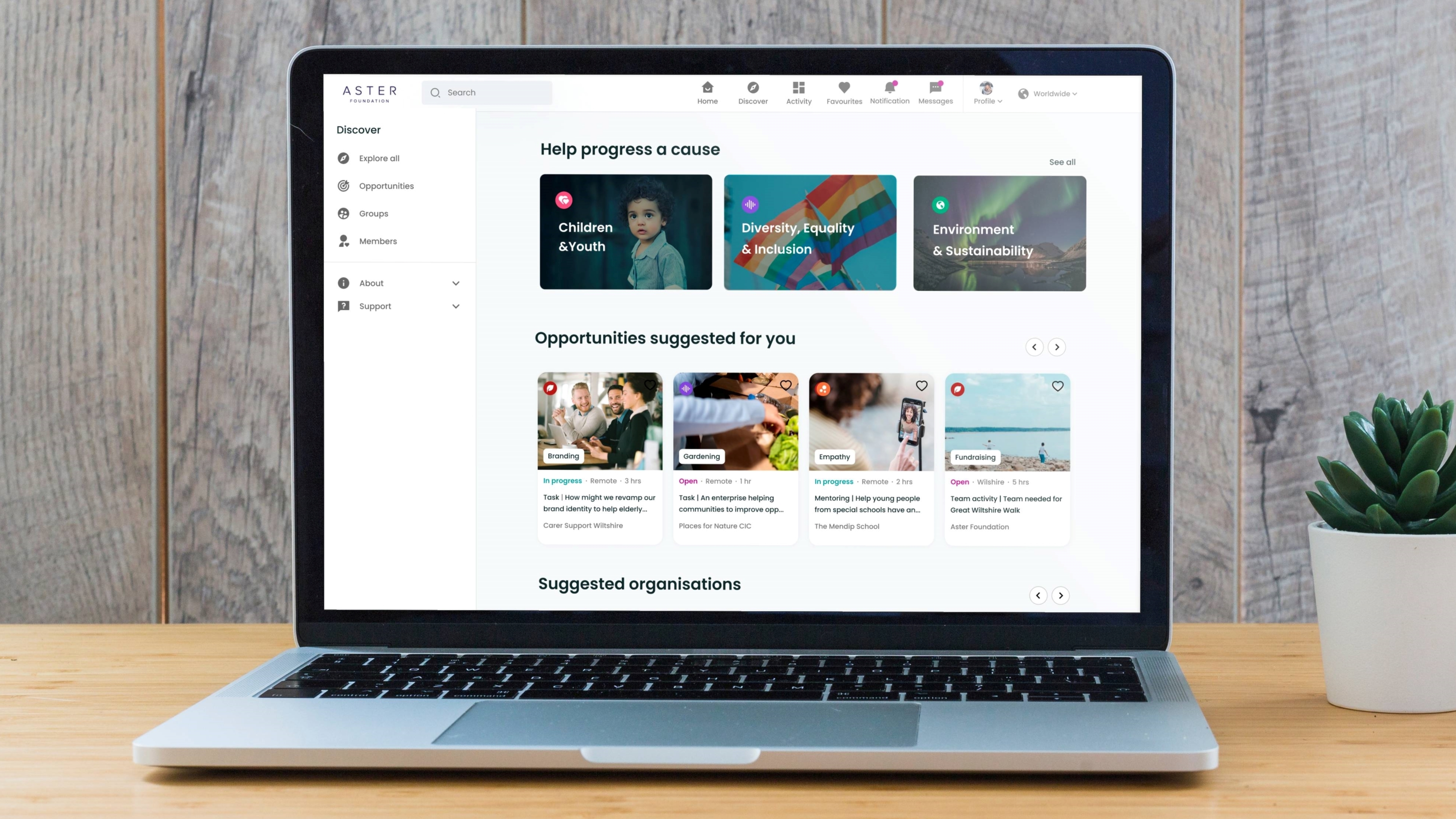 The Aster Foundation was founded in 2016 to enact the social purpose of The Aster Group - a housing association committed to supporting their local communities and the people living in them. 
The Aster Foundation aims to work with their customers, colleagues and partners to understand what is important to them and how they are best placed to make real and lasting change.  Their approach is to offer impact programmes which not only work for people when things go wrong, but also try to tackle the root cause of social challenges through innovation.
With Goodsted they've been able to onboard their employees, customers, suppliers, donors and community partners to connect and collaborate in one place to progress social impact goals. 
They are now working together to progress social and environmental causes that matter to them:
Employment & Economic Growth
Environment & Sustainability
Financial Inclusion
Homelessness & Housing
Later Life & Elderly
Mental Wellness & Resilience
Poverty Relief
Aster Foundation was the first organisation who subscribed to our Enterprise software solution, which provides a private ecosystem within Goodsted and an easy way to engage all stakeholders in progressing social value goals. This gave them a fully branded experience for their stakeholders 'powered by Goodsted', and enabled the Aster Foundation to launch their Aster VIP platform.
"Volunteering skills and time - Investing in communities - People powered. It's our way of connecting our colleagues and communities to our social purpose."
They had hundreds of non-profit community partners, which they supported through their colleague and customer volunteering schemes, but were looking to reduce the administrative burden and time spent on communicating opportunities to colleagues, as well as searching for a more efficient way to track, measure and report on the engagement and impact of their programme. They also wanted to expand their volunteering programme to their contractors & suppliers, and then to their donors. The platform helped them save time managing their volunteering programme, and create strong building blocks for scaling.
Early success
When we started our engagement with the Aster Foundation, we had only recently launched a beta version of the Goodsted platform, but despite this, the Aster Foundation community was able to onboard smoothly, and start their engagement with a small group of initial stakeholders. As we were at beta stage, the community also supported us through giving feedback and helping us optimise our platform. 
The Aster VIP ecosystem currently:  
counts over 370 members,
has registered over 50 nonprofit and impact organisations,
the community has already supported over 60 volunteering opportunities,
totalling over 1,800 hours of time shared.
This year, we will launch the Goodsted platform out of beta and Aster VIP will be expanding the engagement to 2,000 colleagues, 90,000 customers and over 1,000 suppliers & contractors to progress their social value objectives. 
"Previously we invested almost 1 week each month on admin! We can now spend this time on strengthening our relationship with partners, sourcing new opportunities, and working to create new impactful projects for colleagues, customers, and all stakeholders to participate in. Goodsted's solution enables all members to be in control of their volunteering and be aware of what other users are engaged in, which acts as a motivator. This also allows for a community spirit to develop on Aster VIP, by not just offering to support volunteering opportunities but by sharing ideas and suggestions. " 
- Gill Roberts, Sustainability and Foundation Partner
How is Aster Foundation using Goodsted's Enterprise Solution? 
Supporting community partners to overcome their challenges and progress with impact goals
Aster's Community Partners are charities, voluntary organisations and social enterprises that are ideally placed to help create positive impact and efficient public services in their communities. Aster also runs a social incubator programme called Aster Inc. which supports social entrepreneurs, and the cohorts within this programme can also join Aster VIP to receive support. 
Through the platform, Aster is able to provide a space for community partners and social entrepreneurs to source support, tackle critical challenges and leverage the collective power of colleagues, customers and suppliers to progress with their goals. 
Goodsted provides useful frameworks for those requesting support to help them clarify the support they need so that volunteers can easily understand and engage. Furthermore, Goodsted allows community partners to manage and track the support they receive seamlessly and measure this against their goals. 
Engaging employees in Aster's social purpose 
Aster colleagues are asked to commit at least 1 day each year to volunteering. They have an unlimited number of days of volunteering they can use, as long as they get a sign off from their manager. So whether they want to volunteer their time for a beach clean, or share their skills and expertise to support a social entrepreneur - they are free to get creative with how they use share their time.
The platform suggests opportunities and organisations fit to their skills and interests, so colleagues can choose their favourite ones, and easily offer their support in teams or individually. 
They connect with the community partner to help them with the task at hand, and once they complete their support, they exchange feedback. The platform gathers information about the success of the engagement, the soft and professional skills it helped them develop, and how, if at all, it impacted their sense of wellbeing and connection to the community. 
This allows Aster employees to build more connected teams (through team days!) where whole teams can participate in worthwhile activities for a good cause. Coming together to progress a common goal, especially when supporting the local community, enables employees to bond and support each other. Skills-based opportunities also enable employees to learn and develop new skills, allowing them to try new things.
Enabling customers to build stronger connections with their communities
The Aster Foundation operates across the areas of Oxfordshire, Hampshire, Sussex, Dorset, Devon & Cornwall, Wiltshire and London; and counts over 90,000 customers living in their homes. 
With Goodsted, Aster can now easily scale their volunteering programme to all customers with reduced admin work to communicate opportunities, track engagement and report on impact. Scaling the programme to customers will help them create a greater sense of community, help their customers develop new skills, and increase their well-being.  
"Goodsted is continually thinking about introducing new features that benefit our users and improving the usability of the software. Personally, I have enjoyed working with the Goodsted team to create the Aster VIP ecosystem. Their passion for volunteering and supporting others is evident. Sharing common goals to improve and support our communities highlighted the importance of volunteering and what a positive impact this can have on our customers."   
Helping suppliers progress social value objectives and build stronger bonds with the Aster ecosystem
Aster's suppliers are businesses or contractors who offer a range of services to ensure Aster maintains high standards expected by their customers and community. Suppliers can range from Building Maintenance Contractors, Fire Safety Software Suppliers to Estate Cleaning Services and more. Aster VIP allows Aster to strengthen existing supplier relationships and harness the power of collaboration to drive progress towards their social impact objectives. 
Suppliers who join the Aster VIP programme are also empowered to use the platform to run their own corporate volunteering programmes and benefit from a diverse range of opportunities which can otherwise prove difficult to find. Suppliers in turn share in the benefits of using Goodsted to engage their employees and measure their impact on the wider community This unlocks a whole new avenue for partnerships, and helps scale the Aster VIP impact ecosystem. 
"Through our Aster Foundation, colleagues are encouraged to support the causes that are important to them and to our customers. Our volunteering process had previously been managed manually but with Goodsted's branded ecosystem solution, we launched Aster VIP, and we were able to automate parts of our programme. This made it easier for colleagues to connect with and support our community partners and allow members to connect remotely at any time. Later this year our customers, contractors and suppliers will also be able to benefit from the platform. With Aster VIP, we have the capacity to engage all of our stakeholders in one place. 

- Gill Roberts, Sustainability and Foundation Partner.
The Aster Foundation believed in us from the very beginning, and have become more than a client, providing extremely useful feedback throughout our journey and helping us develop our offering. Aster VIP is now helping to bring their vision to life. We look forward to seeing the impact of the widespread launch of Aster VIP to Aster customers and suppliers this year! 
Want to find more about how we can help you engage your stakeholders in impact?  Schedule a Discovery Call with us here, so we can hear more about how you currently run your programme, and what you're looking to achieve!