How Frontline Live helps those on the frontline in Ukraine? | The Purpose Champions: Episode 1
PUBLISHED ON November 3, 2022
The Purpose Champions is an official Goodsted podcast. Each month, I will host guests who follow their purpose and strive to create social and environmental impact for their stakeholders and communities🏆
These stories will be full of inspiration and insights for our community to learn from and take action to progress on their own purpose journey. You will also hear from leaders of impactful initiatives and have a chance to get involved in their mission by sharing your skills and time.
Follow us on Spotify so you don't miss any of our future episodes 🎧
In our first episode, we hosted Katz Kiely, the Founder and CEO of Frontline Live (Frontline Map) to learn more about how they empower people on the frontlines during times of crisis and their use of open-source collaborative technologies to scale their impact. 
Listen and watch the full episode here: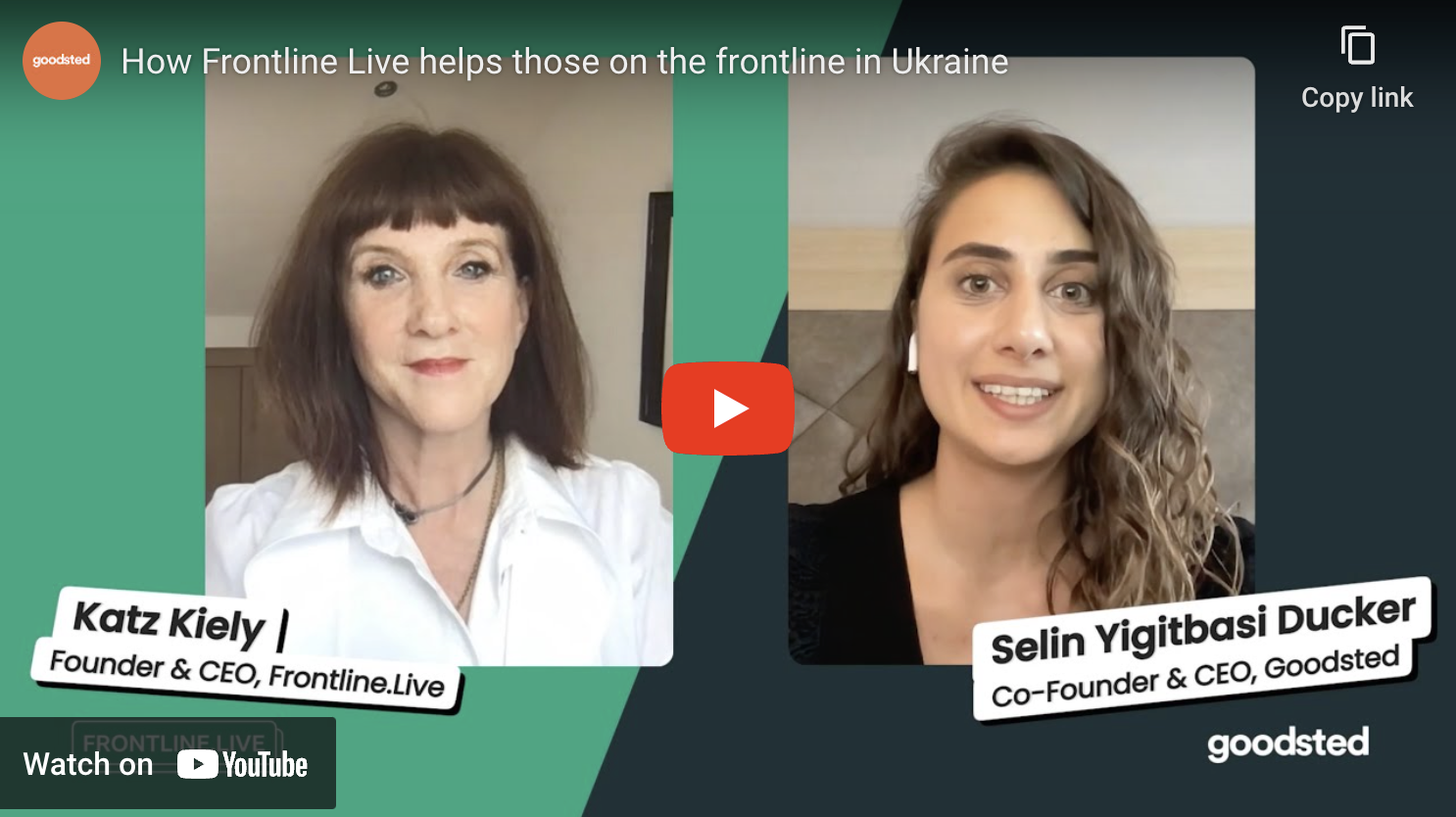 Frontline Live started as a response to the COVID-19 pandemic, to help with the PPE shortages. Later on, when the war in Ukraine started, the team decided to adapt the platform to help with donating the necessary supplies to support Ukraine. 
It wasn't as easy as just duplicating what they already had! They had to redesign the platform with a robust system in place to ensure that the granular data and geolocation data is secure and inaccessible to everyone. 
Working from a bottom-up approach, Frontline Live is "putting the power in the hands of the people of the frontline" and visualising the data as a way to connect the people in need with those who want to help.
Transcript:
Selin: How did you get started with the Frontline Live initiative?
Katz: "I am a person who spent the last 20 years designing and building digital technologies that help people to connect and collaborate, sort of open-source collaboration technologies.
Frontline Live, is something that happened during the beginning of COVID-19, when people in the UK were having to go into work without the protective equipment that they needed. There were people going in (nurses, doctors, care workers) on a daily basis into hospitals and care homes, working with people with COVID-19 without the protection they needed.
On the other side, there were lots of people like me who are innovators, technologists, small businesses. There was this groundswell of people who wanted to help, people who were making stuff, people who were pivoting their businesses to make stuff, people that were collecting, crowdsourcing and crowdfunding. But the people in the middle, the government and the leaders of those hospitals didn't want people to know that there was a problem.
So, they told people on the frontline to be quiet. I thought, well, this is unfair. People are putting their lives at risk, surely there's a way of us building a technology that will connect the people in need with those people who want to help. And so we put out a call on social media, 40 volunteers jumped forward, and we launched the platform in four weeks to allow frontline healthcare workers to report what they needed. We put those needs on a digital map so that the people who had small amounts of those things could get it to them without us getting in the way."
Selin: What was the impact of the programme?
Katz: "We launched the platform and I reached out to corporations - we got The Times involved, The Sun involved, Snapchat and lots and lots of people just started working together around the platform. And fast forward a year, and we managed to get about half a million pieces of PPE to the frontline which is not the whole solution to the problem. Obviously, the government still needed to be importing and getting big quantities of PPE to the frontline, but it was a really helpful part of the solution. And we added up the amount of kind of in-kind sponsorship we'd had in volunteer time, and it was about three-quarters of £1,000,000, and not one single penny changed hands during that whole year."
Selin: Frontline Live uses open-source technology. How and why did you choose to go with that route?
Katz: "Because what happens in a crisis, and it happens again, again and again, is there's a crisis. Who knew that was ever going to happen? Loads of people step forward to help, lots of brilliant things happen and then all those people go back to their day jobs and all of that learning is lost. And we were determined that wasn't going to happen, so we built open source and we've got a big vision, mission, ambition. Our mission, vision, ambition is that our open source platform is there for anyone to use because it works for PPE. So why shouldn't it work for any other crisis where things start running short on the front line and there are people and small companies and big companies who want to help supply against those needs? So our dream is that in 5 years time Frontline Live will be the platform when there's a crisis; People will pick up the code, fork it, contextualise it to their needs so that we can pull the best bits of their learning back into the central mother code. So we end up with a continuously improving code base that's there to be used, rather than us having to start from scratch every time."
Selin: How were you able to adapt the platform for the crisis in Ukraine?
Katz: "It worked really well for the PPE situation, so when the war started, we knew we needed to do something and we thought we could just replicate the code and change the language so that we could start using it in the war zone. But obviously, in a war zone, if you can see granular data, if you can see where the distribution hubs are, where those needs are, you're actually making those organisations into targets. So, we definitely didn't want to do that because we're all about safety and well-being. So we had to redesign the platform for the war zone, which took a little bit longer than we thought. So no the way that it works is that you can't see the granular data unless you've been verified by our volunteers. So all of our volunteers who are doing the matching and checking out that the people are uploading needs are actually registered, etc, and the suppliers all have to be verified. And we've built in a system which means that actually people, once they're in, they have to keep logging back in again, just to make sure that that granular data and geolocation data is as safe as it can possibly be. So that we're not setting those hospitals and community group up as targets."
Selin: Why is it important to do what you're doing in the way you're doing it?
Katz: "So there is a lot of money being raised to help Ukraine. I think that there's a misconception that the problem has been solved because the media are not covering it in the way that they were. People assume they have given money to the big players and therefore people in Ukraine are fine. They are not. We only launched the platform, less than two months ago. We've got an incredibly small team of people. We've got three wonderful women who are over in Eastern Europe working much more closely with the organisations. And we've got already about 20 organisations that have started to upload their needs. And the results are frankly terrifying and really depressing and it really makes you more motivated to do something about it.
Let me give you an idea of what we found out. So what you probably don't know is that everybody's focusing on refugees who are going to Poland, who are going to Denmark, who are going to Romania, etc. So just inside Ukraine, there are 6.3 million people who've lost their homes. They've had to move somewhere else. Or they're in shelters. So just from these 20 organisations from two different small regions and Ukraine is huge. We're seeing the needs are already hundreds of thousands of pieces of kit that people are having to go without. On one hand, there's the medical supplies that they're running out of. And we're talking about a range of very specialised equipment for the emergency rooms, for the intensive care rooms, for those that have been injured in the bombing. To hand gels to just make sure you don't infect people as you're operating them, to syringe pens for diabetics who just don't have what they need to be able to keep them alive. To tourniquets, thousands of tourniquets, that they don't have so people will bleed to death after they've been bombed. And on the other hand, then there's the domestic needs. And if I can just get you to imagine for 1 second what it feels like, they're just people like us, what it feels like to go without dried food. They've got no food, food is running out. I mean they're resilient as hell. These people are just keeping going. I don't know what they're doing without that drained food.
Nappies, hundreds of thousands of nappies that people just don't have access to. You can imagine what it's like to have a baby and not be able to put them in nappies? It's beyond my comprehension. And then, as I was saying, there's the shelters, and there's more and more people need shelters. And it's summertime, so it's not a massive emergency now, but just imagine, when it gets towards winter, we're talking about minus 4 temperatures, temperatures of minus 4. What are they going to do then? They don't have blankets, they don't have mattresses. So the range and size and the scale of the needs in Ukraine is just devastating. So if anyone who's watching this thinks that the problem has been solved because the media aren't covering it or because they've given money to the big players, they can rethink because the problem is huge and we need to help. So what we're doing as Frontline Live is putting the power in the hands of the people on the frontline. We're putting that data on the map so that the people who want to help, the people who can crowdfund, who can crowdsource, who can donate, can actually get what's needed to where it's needed when it's needed."
Selin: What can volunteers out there who would like to support Frontline Live Ukraine do to help you?
Katz: "From things as simple as how to video because actually what we're doing is very simple. But if somebody has got skills, to be able to make a how-to video, to make it more simple still so that the people on the frontline can see how it works and how it will work for them, that would be amazing! We need people to help us with content. We need people to help us with social media strategy. We need people to help us getting the word out, so PR. How can we start getting the word out to the right people so people know we're here to help. And the most important bit of all of this, we know there are hundreds of thousands of pieces of kit that are needed, and we know that that's intolerable.
We need to start figuring out ways of finding those supplies, of crowdfunding for those supplies, of sourcing those supplies, of finding companies that are capable of donating. So we need volunteers to work with us on that. And then, of course, we need people to match the needs from the frontline to the people who have those supplies so that we can get out of the way, because our job as a platform is almost like a dating site. We're allowing people to say we need this so that people who have this can get it to them quickly."
Looking for ways to help?
If you're interested in supporting Frontline Live Ukraine to achieve an even larger impact, then check out their page on Goodsted here. They have all their opportunities and requests up there for you to browse, get in touch with them and directly help those on the frontlines.