Dynamic navigation, optimised search and location filter for an enhanced user experience 🧭
PUBLISHED ON August 16, 2021
At Goodsted, Simplicity and Diversity are two of our core and most cherished values, and we strive to create a platform that is aligned by these values, because everything we do is in pursuit of making doing good easy, and to empower all individuals, organisations, and communities to take part. 
It goes without saying that accessibility and usability are key. Which is why we have introduced dynamic navigation, improved our search capabilities, and added a location filter to enhance your experience and enable a more seamless way to navigate through the platform's many features and functionalities. So regardless of where and what you're looking for, you can find what you need with ease. 
In the upcoming months, we'll be working on further enhancing the accessibility of our platform according to accessibility guidelines, however if you see anything that you think should be addressed we'd still love to hear from you through the chat support icon on the platform. 
What does our new menu and dynamic navigation look like?
Our main desktop menu as you may have known it before has now moved to the top of your web page / browser, so that wherever you are on the platform you can easily access any of the main areas: Home, Dashboard, Opportunities and Community. 
This move means a new dynamic menu now appears on the left hand side - where you can also click into each main area, and explore these further. 
Under 'Opportunities' for example, you will now be able to easily access your opportunities as well, in the 'My Opportunities' tab. This change should hopefully make your journey through the platform more intuitive and organic, helping you find the focused information you need when and where you need it. 

Take a look!
What are the optimised search capabilities? 
We know how crucial searching for information is these days, so we have also enhanced the 'Search' functionality and design to provide you with more flexibility - and specificity!  
You can search the platform by keyword, or by skill, cause, organisation or opportunity. So no matter what you are after you can just use the search bar to provide the results most relevant. 
To give you a concrete example of what this looks like in practice, if you are a marketing professional looking for opportunities to engage in, you might search for 'marketing'. Or if you're passionate about the Environment, you might search for 'environment' to see the organisations and opportunities that come up.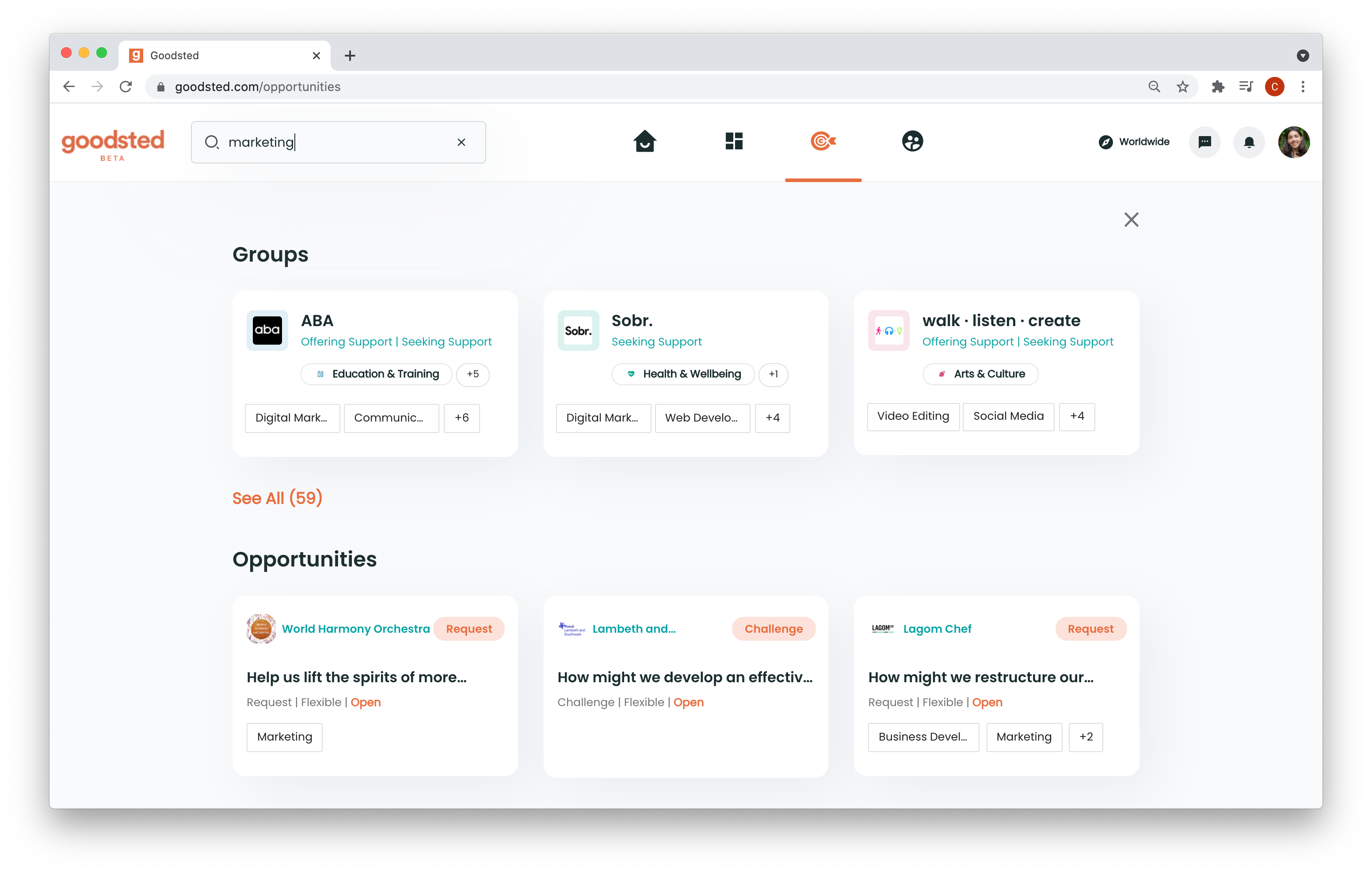 What's this location feature all about?   
A final new feature we're really excited about is our 'Location' function and filter, which allows you to easily engage in different locations worldwide. 
Say you're working and living in London, and want to see what organisation and opportunities are available in your local area - simply search and select 'London' in the Location search bar, and everything you see on the platform will filter to that location. That means, all of the updates you see in the Home page, all of the opportunities you see in the Opportunities section, and all of the groups you see in the Community section will all be London-based! 
As Goodsted is in its early stages, many locations may not yet have much activity - so we advise engaging on 'Worldwide' setting for now until we launch the platform and scale to other cities. If you are interested in helping grow the community in your local area - this is possible too! New communities can be activated on Goodsted within minutes - they just need to sign up 🤗
Your location will, by default, be set to Worldwide until we have a prominent community in your area. However, you can click and easily change locations and explore different areas by clicking on the location button in the top right hand corner of the platform. 
Interested in building a Goodsted community in your local area? It's really quick and easy! All you need to do is register and invite your friends, colleagues, and community members to join, as Goodsted is open to everyone, and accessible from anywhere. Sign up today to get started.